Energy Efficient Guide
To Swimming Pool Heating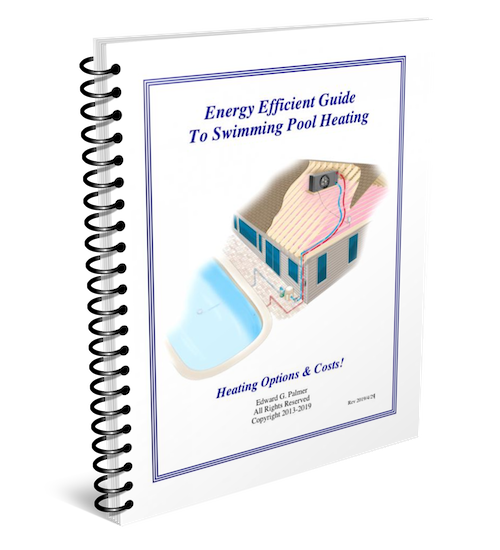 The Palmer "Energy Efficient Guide To Swimming Pool Heating" is a resource for swimming pool owners and prospective pool owners as they consider ways to efficiently heat their swimming pools.  It was written by Edward G. Palmer, the Founder of SolarAttic, Inc, an alternative energy technology company.  Mr. Palmer has over 30 years experience in the alternative energy field and holds several alternative energy patents.
 There are many types of heating systems available for swimming pools.  The way you choose to heat your pool will be based on several factors unique to your pool, its use, its environment and your own personal preferences including how you feel about modern day environmental issues and green technologies.
Learn five green pool heating technologies & how they can save you money & extend your swim season & family's enjoyment!
       With the knowledge in this eBook, you will have the information you need so that you can ask important and relevant questions of your local pool contractor, pool service company or other pool support professional.  This eBook also gives you the information needed to evaluate the heating options pool professionals present from a perspective that's best for your own pool environment, lifestyle and budget.   In this eBook, you will have all the information you need to create an energy-efficient pool, giving you the lowest possible heating costs and the maximum possible swimming pool enjoyment for your family. 
       With this eBook, you may even find out that you know more than your pool servicer or contractor does concerning swimming pool heating options. This includes learning about a fourth generation solar pool heater that does not use roof mounted panels.  A technology that has been available for over 30 years, but is not widely known or understood.  And, whatever pool heating option you decide to choose, you will know ahead of time the cost implications of that option.
Compare All Your Pool Heating Options!
Why create an energy efficient pool?  
       You want an energy efficient pool for the same reasons you want to have an energy efficient house. Because, it reduces your monthly and yearly pool related energy costs and, at the same time, it increases your family's comfort and enjoyment of the pool.  In the same way that you can create an energy efficient house, there are some simple and relatively inexpensive techniques that can make a dramatic difference in your monthly pool heating costs.  An energy-efficient pool has a dramatic effect on the enjoyment your family receives from the pool investments that you've already made. It is a fact that you have a substantial investment in the swimming pool. Why not learn how to enjoy it more? How you can literally heat your pool for only $15/Month?
Learn How to Heat Your Pool For $15/Mo!
      In general, if you do not heat your swimming pool, your overall swimming season will be limited by your local weather and seasons.  In ground pools and even some above ground pools are trapped by the ground temperatures surrounding the pool unless they have some type of heat input. In contrast, it is possible to be in your pool up to six weeks earlier and six weeks later than the typical pool opening, which occurs on Memorial Day and the typical pool closing, which occurs on Labor Day. This is the schedule most often used by swimming pool owners.
      Get In Your Pool Earlier,
Stay In Your Pool Longer!
Five Green Energy
Technologies
A Green Plumbing Technology

A Green Blanket Technology

A Green Circulation Technology

A Green Pool Heating Technology

A Green Valve Technology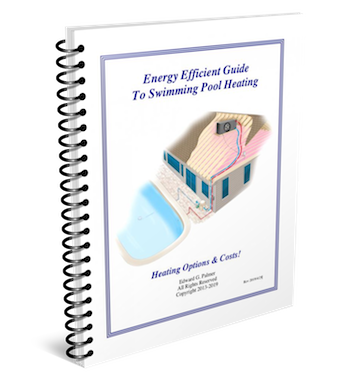 25 Illustrations

18 Tables

Energy Formulas

Energy Cost Trends

Easy To Use Fuel Templates

Sixty-Four "How-To" Pages

Compare Pool Heating Costs
100% Satisfaction Guaranteed
Buy This Energy Guide Absolutely Risk Free
- Only $29.95 -
100% SECURE PayPal Credit Card Transactions

(Download eBook Immediately).

Edward G. Palmer eBooks & Ministry Products
13570 Grove Drive #361 - Maple Grove MN 55311